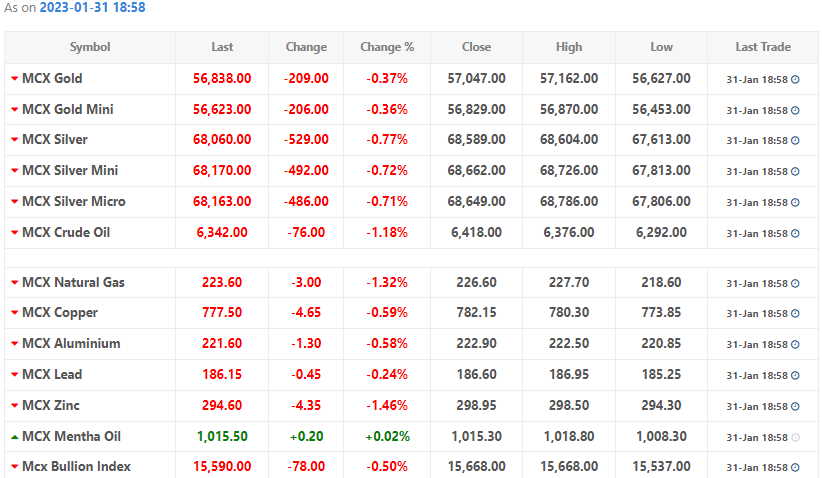 Gold prices eased on Tuesday, but were en route to their third straight monthly gain, as market participants awaited the U.S. Federal Reserve policy decision later this week.
Spot gold was down 1% at $1,902.75 per ounce. The contract, however, was headed for a monthly gain of 4%. U.S. gold futures were down 1.1% at $1,902.
The dollar index held steady but was set for a fourth consecutive monthly drop. A weaker greenback tends to make dollar-priced bullion an attractive bet.
Traders mostly expect the Fed to scale back rate hikes to 25 basis points (bps) at the end of its two-day policy meeting on Wednesday. The U.S. central bank slowed its tightening pace to 50 bps in December after four straight 75-bp hikes.
"The gold market has already priced in a 25 bps hike. If the Fed strikes a dovish tone, then it will be positive for gold," said Ajay Kedia, director at Kedia Commodities, Mumbai.
A low interest-rate environment decreases the opportunity cost of holding non-yielding bullion.
"I expect gold to trade between $1,900 and $1,925 over the next week," said Michael Langford, director at corporate advisory firm AirGuide.
Top gold consumer China's economic activity swung back to growth in January, official data showed, as a wave of COVID-19 infections passed through faster than expected following the country dismantling its pandemic controls.
"With the Chinese economy recovering, physical gold demand in China will improve. Also, there will be support for other precious metals, which are industrial in nature," Kedia added.