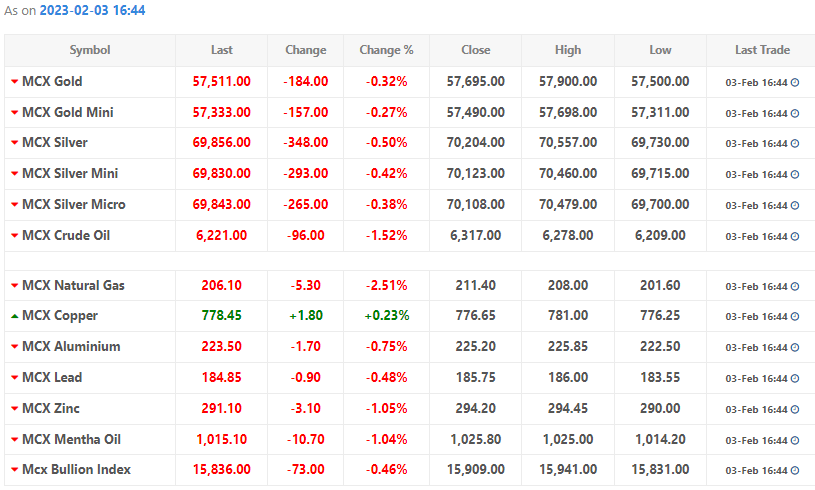 Gold prices steadied on Friday after a sharp sell-off in the previous session, as traders digested rate-hike remarks from global central banks, but the metal was set for its first weekly drop in seven amid a strong dollar.
Spot gold edged 0.2% higher to $1,916.31 per ounce by 0233 GMT, after shedding 2% in a sell-off on Thursday that was fueled by a firmer dollar and profit-taking.
U.S. gold futures were little changed at $1,915.80.
"With gold prices delivering a stellar performance of more than 20% over the past three months, some positioning for softer rate-hike bets could already have been at play and having found the much-needed validation from the recent FOMC meeting," said Yeap Jun Rong, a market analyst at IG.
Therefore, it may trigger some near-term profit-taking, "but for gold prices, a greater conviction for sellers could be a break below the $1,895 level, where dip-buyers were seen stepping in this week just before the meeting," the analyst added.
Gold prices have gained about $300 since November on expectations of softer rate hikes from the U.S. central bank, as a lower interest rate environment reduces the opportunity cost of holding non-yielding bullion.
Following the Fed's 25 basis-point rate increase after a year of larger hikes, both the ECB and the BoE raised their interest rates by 50 basis points as expected on Thursday.
Global central banks that raced to raise interest rates last year amid soaring inflation are now laying the groundwork in unison for a pause that, while not yet promised, is coming into view for later this year.
The U.S. dollar, meanwhile, was up 0.1%, keeping a leash on gold prices.
Investors are now awaiting the monthly U.S. non-farm payrolls data due later in the day for further direction.
Elsewhere, spot silver rose 0.3% to $23.5232 per ounce, while platinum fell 0.1% to $1,020.51.
Palladium ticked up 0.1% to $1,655.60.