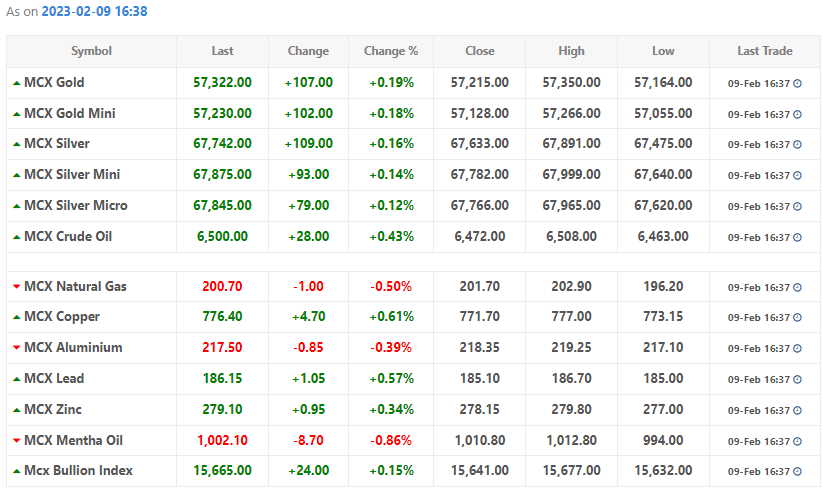 Gold prices edged lower on Thursday, as the dollar steadied and after U.S. Federal Reserve officials said more interest rate increases were likely to curb inflation.
Spot gold was down 0.1% at $1,874.58 per ounce, as of 0054 GMT. U.S. gold futures fell 0.2% to $1,886.20.
The dollar was largely steady against its rivals. A stronger greenback makes dollar-priced gold more expensive for buyers holding other currencies.
Fed officials said on Wednesday more rate hikes are in the cards as the U.S. central bank presses forward with its efforts to cool inflation, although none were ready to suggest that January's hot jobs report could push them back to a more aggressive monetary policy stance.
Gold is sensitive to high interest rates which lift the opportunity cost of holding non-yielding bullion.
Market participants are now expecting the Fed's target rate to peak at 5.132% in July, from a current range of 4.5% to 4.75%. President Joe Biden said on Wednesday he did not believe the U.S. economy would fall into recession either this year or next year.
SPDR Gold Trust, the world's largest gold-backed exchange-traded fund, said its holdings rose 0.03% to 921.10 tonnes on Wednesday from 920.82 tonnes on Tuesday. Spot silver fell 0.1% to $22.28 per ounce, platinum was 0.3% lower at $966.85 and palladium eased 0.1% to $1,646.89.