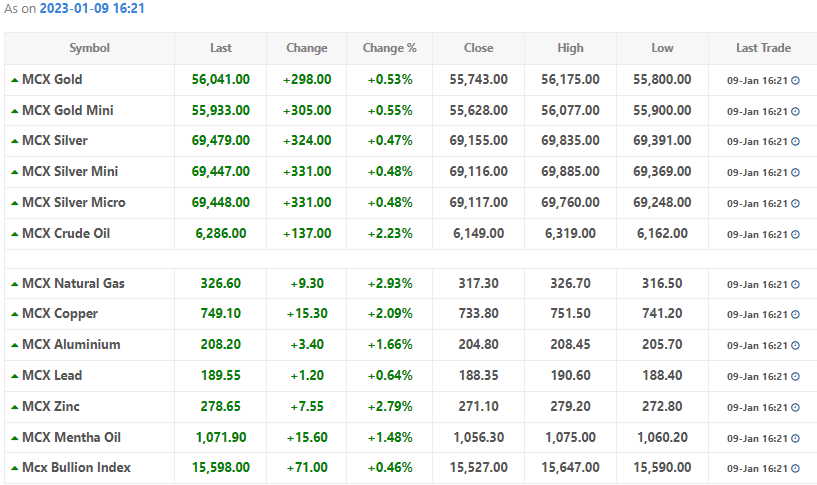 Gold prices hit an eight-month high on Monday, as the dollar slipped on bets for slower U.S. interest rate hikes, while investors also cheered top bullion consumer China reopening its borders.
Spot gold rose 0.4% to $1,873.72 per ounce by 0951 GMT, its highest since May 9, 2022. U.S. gold futures gained 0.4% to $1,877.40.
The weaker dollar is likely the main factor lifting gold, and investors have also started slowly increasing their holdings in exchange-traded funds (ETFs), indicating positive sentiment in gold, UBS analyst Giovanni Staunovo said.
Making gold cheaper for overseas buyers, the dollar index eased 0.2%, still under pressure after recent U.S. data raised hopes for a slowdown in the pace of rate hikes by the Federal Reserve.
Elevated rates dampen interest in non-yielding gold, as they did for the majority of 2022.
"Data suggests that the Fed's cumulative tightening in 2022 is starting to have its effects felt on the economy and that the Fed can afford to slow its pace of tightening," said OCBC FX strategist Christopher Wong.
Traders will now assess Fed Chair Jerome Powell's speech at a central bank conference in Stockholm on Tuesday and U.S. consumer price index data due later this week.
"We believe (gold) prices are trading at the upper end of a fundamentally justified range," Julius Baer analyst Carsten Menke said in a note, adding that central bank buying had become a new focus area for the bullion market.
China held 64.64 million fine troy ounces of gold, as of end-December.
However, UBS' Staunovo said while China's reopening of its borders could support jewellery demand to some extent, the overall impact on gold market may be limited.