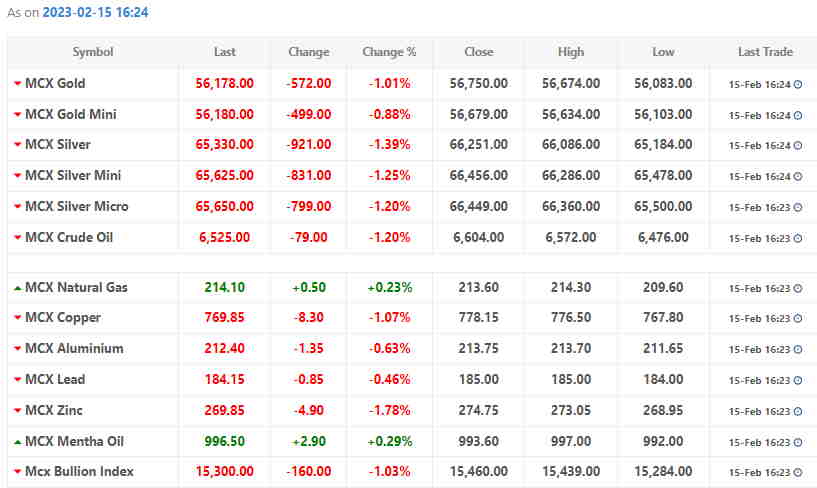 Gold
prices fell on Wednesday as the dollar firmed after data showed U.S. inflation rose last month at its slowest pace since late 2021, reinforcing investor concerns that the Federal Reserve would persist with monetary policy tightening.
Spot gold was down 1% at $1,835.80 per ounce after falling to its lowest since early January on Tuesday. U.S. gold futures fell 1% to $1,846.40.
Rising interest rates discourage investors from placing money in non-yielding assets such as gold.
"A more-aggressive tightening path is more likely to weigh on gold over the foreseeable future," said Matt Simpson, a senior market analyst at City Index.
"But with bearish momentum slowing and gold's flat close (on Tuesday) despite stronger inflation, perhaps the path of least resistance points (to) slightly higher from current levels."
The U.S. consumer price index (CPI) increased 0.5% last month, in line with expectations. In the 12 months through January, the CPI increased 6.4%, which was the smallest gain since October 2021, but slightly higher than expected.
Fed officials said on Tuesday the U.S. central bank would need to keep gradually raising interest rates to beat inflation.
"We must remain prepared to continue rate increases for a longer period than previously anticipated" and "given the risks, we shouldn't lock in on a peak interest rate or a precise path of rates," Dallas Fed President Lorie Logan said.
Money markets expect the Fed's target rate to peak at 5.263% in July from a current range of 4.50% to 4.75%.
The dollar index
rose 0.2%, making greenback-priced gold more expensive for buyers holding other currencies.