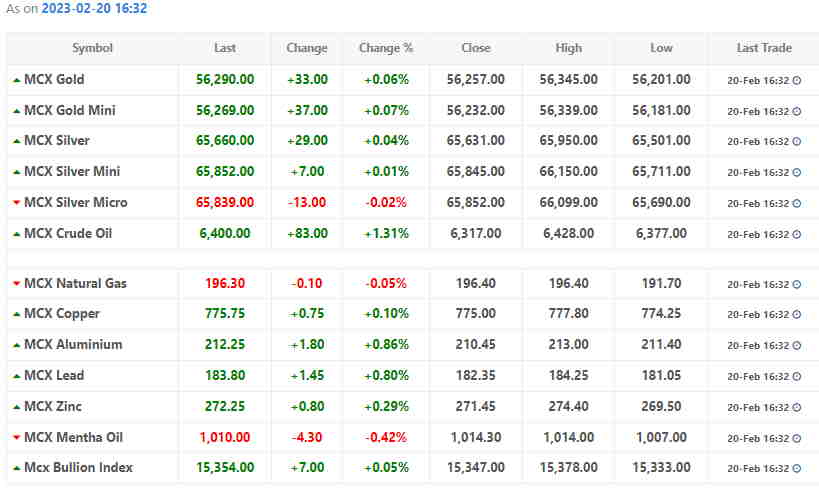 Gold prices on Friday were on track for their third straight weekly dip, weighed down by a stronger dollar and bond yields following fresh hawkish rhetoric from U.S. Federal Reserve officials.
Spot gold was last down 0.02% at $1,841.15 per ounce, after earlier falling to its lowest since late December. Prices have fallen 1.4% so far this week.
U.S. gold futures settled 0.1% lower at $1,850.20.
The dollar's advance, paired with the hawkish outlook from members of the Fed, was weighing on the market, said Phillip Streible, chief market strategist at Blue Line Futures in Chicago.
Fed officials this week said the U.S. central bank likely should have lifted interest rates more than it did early this month, with Fed Governor Michelle Bowman reiterating the 2% inflation goal.
The dollar index surged to a six-week high, making bullion less attractive for overseas buyers, while bond yields also climbed.
Higher interest rates increase the opportunity cost of holding zero-yield bullion. Prices of the previous metal are down about 7.3% since its nine-month peak earlier this month.
Goldman Sachs said it expected the Fed to raise rates three more times this year by a quarter of a percentage point each.
Traders await next week's release of the latest FOMC minutes and U.S. GDP data for more clues on the path of rate hikes.
"The test for the Fed will occur if and when the economy weakens without inflation declining rapidly … should the Fed react to those potential outcomes by easing policy, then gold should perform well," said Caesar Bryan, portfolio manager of the Gabelli Gold Fund.
Spot silver gained 0.69% to $21.7492 per ounce, while palladium was down 0.81% to $1,498.4626.
Platinum was down 0.11% at $919.2444, after earlier reaching its lowest since November.
Russia is likely to limit exports of key metals such as palladium if the United States imposes steep taxes on imports of aluminum from Russia, analysts said.