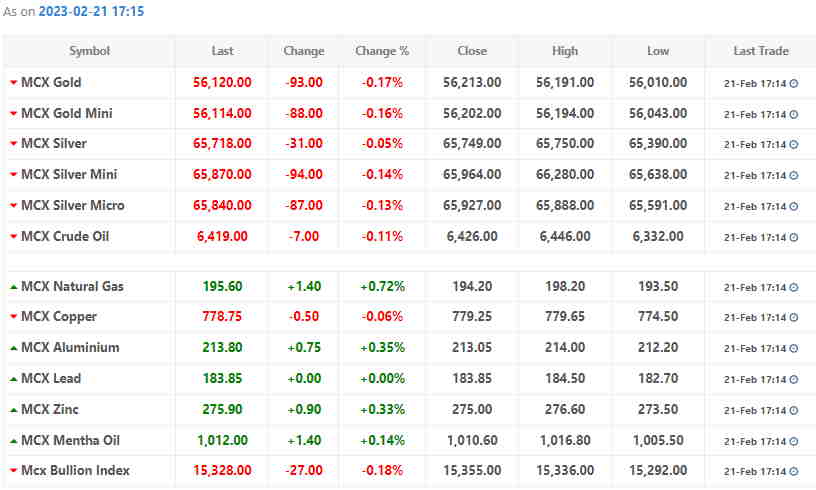 Brent oil fell on Tuesday as concern about a global economic slowdown that would reduce demand prompted investors to take profits on the previous day's gains, outweighing supply curbs.
The focus in the wider financial market is firmly on the release on Wednesday of the minutes of the U.S. Federal Reserve's latest meeting, after recent data raised the risk of interest rates remaining higher for longer.
Global benchmark Brent crude was down 12 cents, or 0.1%, at $83.95 a barrel. U.S. West Texas Intermediate crude for March, which expires on Tuesday, was up $1.02 at $77.36.
"Brent is at the middle of the trading range since late December of between $78 and $88 a barrel, with some investors taking profits on concerns over more U.S. interest rate hikes while others kept bullish sentiment on hopes for a demand recovery in China," said Satoru Yoshida, a commodity analyst with Rakuten Securities.
The U.S. contract did not settle on Monday because of a public holiday in the United States. As a result, the weekly American Petroleum Institute report on U.S. inventories will be out on Wednesday, rather than Tuesday as normal.
Oil on Monday rose by more than 1% on optimism over Chinese demand, which analysts expect to rebound this year after COVID-19 curbs that had limited use were scrapped.
Signs of tighter supplies also lent prices some support.
Russia plans to cut oil production by 500,000 barrels per day, or about 5% of its output, in March after the West imposed price caps on Russian oil and oil products over the invasion of Ukraine.
Russia is part of the OPEC+ producer group comprising the Organization of the Petroleum Exporting Countries (OPEC) and allies, which agreed in October to cut oil production targets by 2 million bpd until the end of 2023.
Looking ahead into 2023, demand is set to exceed supply, said Tamas Varga of oil broker PVM.
"After a turbulent 2022 it seems increasingly plausible that the global economy will avoid recession, interest rates will peak some time during the summer, global oil consumption will gradually increase whilst oil supply will struggle to keep up with the rise in demand," he said.