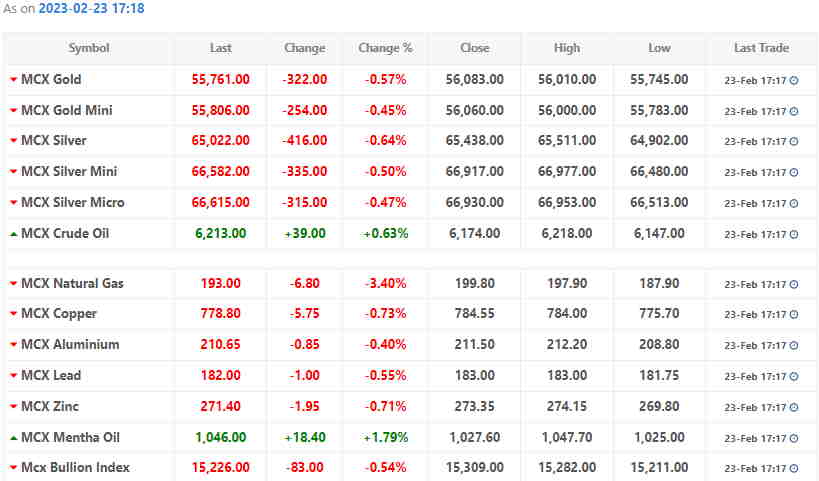 Gold prices were flat on Thursday as the prospects of U.S. interest rates staying higher for longer kept bullion on a tight leash.
Spot gold was up less than 0.1% at $1,825.30 per ounce. U.S. gold futures slipped 0.4% to $1,833.50.
Elevated interest rates dampen gold's appeal as an inflation hedge while raising the opportunity cost of holding the non-yielding asset.
Minutes from the Federal Reserve's latest policy meeting showed on Wednesday policymakers agreed rates would need to move higher, but that the shift to smaller-sized hikes would let them calibrate more closely with incoming data.
"The Fed stated they're still looking at combating inflation and raising interest rates, but not as aggressive as before … because of that, gold prices have retreated a little, and this morning they're just consolidating," said Brian Lan, managing director at Singapore-based dealer GoldSilver Central.
Moreover, a slew of data in recent weeks pointed towards a resilient U.S. economy, adding to concerns that the Fed would continue with its monetary policy tightening path.
St. Louis Fed President James Bullard reiterated on Wednesday that a Fed policy rate in the range of 5.25%-5.5% would be adequate to tame inflation. Traders of Fed funds futures expect rates to peak at 5.362% in July and remain above 5% through the year.
Investor attention is now on the U.S. personal consumption expenditures data, the Fed's preferred inflation measure, due on Friday.
"If the data shows that inflation has gone higher and not lower, we might see a bit of a sell-off in gold," GoldSilver Central's Lan said.