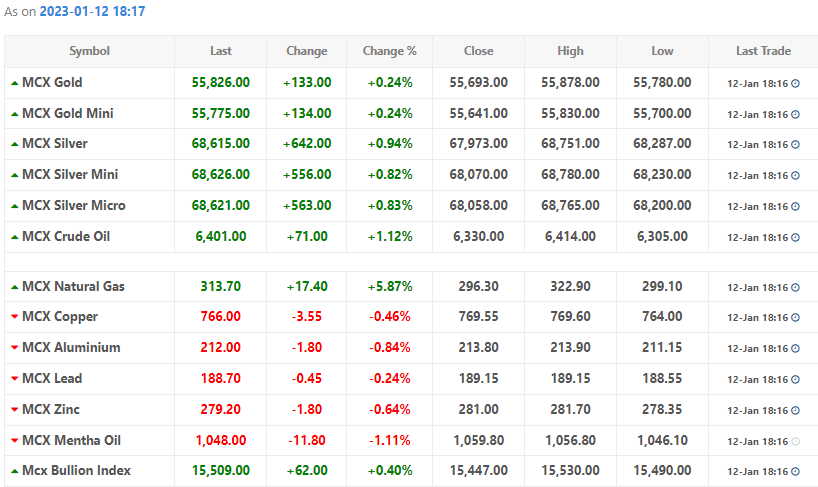 Gold prices rose on Thursday to near an eight-month peak, helped by a weaker dollar, as investors braced for a U.S. inflation report expected to provide clues to the Federal Reserve's rate-hike path.
Spot gold rose 0.5% to $1,885.85 per ounce, after hitting its highest since early May at $1,886.59 on Wednesday.
U.S. gold futures also gained 0.5% to $1,888.80.
"Gold seems to be drawing strength from investor caution ahead of the key U.S. inflation report this afternoon," FXTM analyst Lukman Otunuga said.
"The precious metal continues to trade around the $1,880 resistance level and may remain buoyed by a shaky dollar. Nevertheless, prices remain bullish and could push higher if inflation continues to cool in the largest economy in the world."
The dollar languished near seven-month low against its rivals, making gold more attractive for other currency holders.
The U.S. consumer price index data are due at 1330 GMT. Economists polled by Reuters estimate that consumer prices were up 6.5% year on year in December, moderating from a 7.1% rise in November.
Boston Fed bank leader Susan Collins said she is inclined to raise interest rates by a quarter percentage point at the central bank's upcoming policy meeting, the New York Times reported.
Money market participants see a 75% chance the Fed will raise the benchmark rate by 25 basis points in February.
Although gold is seen as an inflation hedge, rising rates increase the opportunity cost of holding bullion.
"If lower-than-expected CPI results are announced, we may see the gold price above $1,900. However, any upward move is likely to be very short-term as investors will lock in profits," said Michael Langford, director at corporate advisory firm AirGuide.
Elsewhere, silver gained 1.5% to $23.76 per ounce, platinum was down 0.3% to $1,067.51 while palladium was steady at $1,773.82.